No agricultural emissions, minimizing soil degradation due to the use of organic fertilizers … is what Nguyen Khoi Green – "Circular agriculture model in response to climate change" has done and won a high prize in the creative startup contest "Women and the future of green economy". This new production model needs to be replicated for the community to benefit.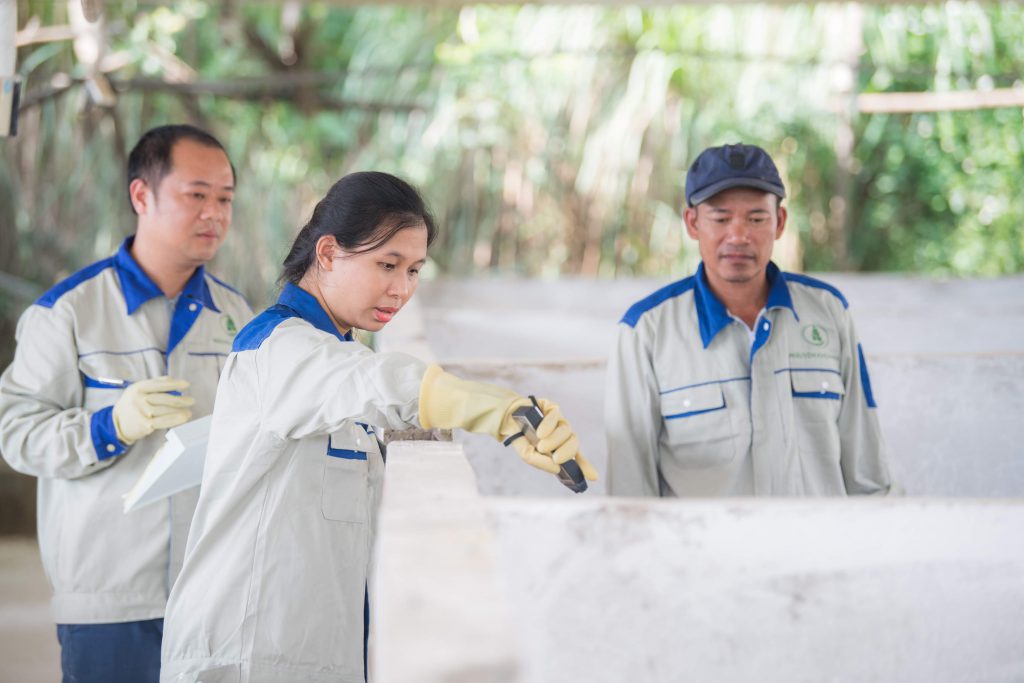 Ms. Nguyen Phuong Thao CEO of Nguyen Khoi Green
After graduating with a Master's degree in the field of Environment in the UK, Nguyen Phuong Thao (Dich Vong Ward, Cau Giay District) has been very concerned when she realized that environmental pollution, unsafe food are rampant, and have bad effects on the health of people. After studying, with the desire to bring a clean food source, Thao and her husband and friends established Nguyen Khoi Xanh – a revolving, closed-generation organic agricultural model of the new generation.
Introducing "home-grown" clean foods, Thao said: "In our model, the top priority is healthy animals by natural resistance. Quality of agricultural products is delicious and good for consumers' health thanks to organic products, does not pollute the environment and minimize greenhouse gas emissions ".
Always supporting his wife's idea and being an effective assistant, Mr. Nguyen Luong Quyet said: "Different from existing models, Nguyen Khoi Green aims at raising animals to treat waste thoroughly. In particular, turning the waste of one process into the input of another process. Specifically, the solid waste of pigs is treated through probiotics, becoming food for earthworms. After that, the worm becomes a protein for livestock, the worm becomes organic fertilizer for the farm plants. The wastewater after biogas treatment does not discharge directly into the environment but has a filter tank system to continue resolving the residues. By doing this, the model has significantly reduced the amount of CO2 emissions each year compared to the conventional farm of 300 pigs/year. "
Ms. Nguyen Phuong Thao and Mr. Nguyen Luong Quyet
After more than 2 years of construction, a closed organic agriculture model by Thao and her colleagues has provided safety products such as fresh meat produced using cool meat technology; processed food from pork using natural spices, not using industrial additives; organic flower tea products … Up to now, Nguyen Khoi Xanh has had a significant number of visitors.
As a regular customer, Ms. Nguyen Thi Cam Huyen (Dich Vong ward, Cau Giay district) said: "Previously, I had to get up very early to prepare breakfast for my family, because I was afraid of buying processed food with available preservatives and unsafe material sources.
From the day I use Nguyen Khoi Green's foods, I find myself being liberated from the kitchen every morning and still having a safe meal for the whole family. "
And Ms. Do Hong Anh (Royal City urban area, Thanh Xuan district) shared: "In addition to completely organic products, the packaging of Nguyen Khoi Xanh also uses environmentally friendly types, such as biodegradable plastic bags, bio bags made from 100% corn flour … Pre-packaged food that is carefully packed in insulation keeps it fresh. "
It is no coincidence that Nguyen Khoi Green won a high award at the creative start-up competition "Women and the Future of the green economy" by the Project Management of Vietnam Climate Innovation Center ( VCIC), Ministry of Science and Technology, in collaboration with the Vietnam Women's Union held in June 2019, the award is supported by the World Bank from sources of the Department of Foreign Affairs and Trade of the Australian Government and UK Department of International Development. Because this is the first circulating circular agriculture model that proves its effectiveness. Constantly developing, the founders also mobilized, trained, and transferred technology to other farms to practice according to the "model of circulating agriculture".
Not stopping there after receiving funding from VCIC, Nguyen Khoi Green has continued to expand the model and grow stronger as well as gain many great prizes in competitions such as The Pioneer Green Enallow Award for sustainable business, Vietfarm Award – Proud of Vietnamese agricultural products and many other outstanding achievements …
"When we intend to replicate the model, many friends discourage, because Nguyen Khoi Green will have to compete. But we are not afraid, because of the transfer and replication of the model, we can develop a sustainable breeding community and towards a synchronized green agriculture, return to nature, protect the environment, and contribute part of strengthening the balance of land ecosystems "- Ms. Nguyen Phuong Thao emphasized.
(Source: http://vietnamcic.org/news/nguyen-khoi-farm-started-a-business-not-following-the-trend-but-towards-the-real-value-100442.html)